Community Wealth (ComWealth)
To realize the great potential of the earning power of under-resourced communities and their residents, and provide financial stability and growth for them
To create both jobs and entrepreneurial opportunities for persons in communities to enable them to have a viable and meaningful existence.
This will involve:
Employability training Skills training for community residents
Entrepreneurial Training and Funding
Placement of residents in Jobs
Provision of technical assistance to micro and small business entities.
Monitoring and mentoring of businesses
Support in respect to marketing of products and services.
Opportunities for lower interest loans to be made available for entrepreneurs, through OSJ and
its partners. Also, more business options and opportunities to be created for those in under-
resourced communities.
Partners:
Lasco Foundation and Group of Companies
C&W Credit Union
Epay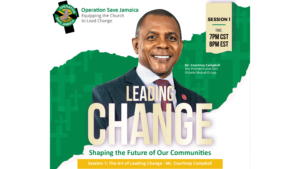 Community Transformation
Registration is FREE! To register visit: bit.ly/3tgxBut
Read More »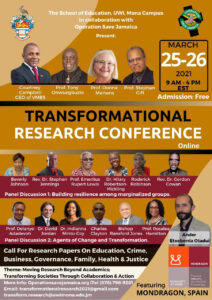 Community Transformation
The School of Education in partnership with Operation Save Jamaica (OSJ) (a non-profit organization) are organizing an online conference to enable researchers to share knowledge
Read More »
The purpose of this event was to encourage and motivate the women in the Young Mothers Association (Strong Women) of Galina and spur them into
Read More »