Caribbean Emerging Leaders
Working Together To Transform Individual Lives
Vision 
To develop an interdenominational, multi-skilled community of Christian young leaders from Jamaica, the Caribbean and it's Diaspora who are connected, empowered, passionate and committed to collectively changing their countries and impacting the world. 
Mission 
To inspire, equip, connect and support the growth and initiatives of Christian young leaders by facilitating the learning, sharing and collaboration of strategies for national transformation through conferences, local and international networking, training, mentorship, missions and support.
Values
Christ-centered – We consistently cultivate, act and think in a way that reflects the image and our relationship with Jesus Christ.
Action-oriented – We make proactive decisions to progressively move towards our goals.
Nation-Focused Leadership – We lead in a way that keeps in focus the development of the nation and its people.
Collaborative – We work together despite our differences. 
Focus Areas
Personal/Spiritual Growth
Professional Development
Leadership Development 
Objectives 
To support the personal, professional and leadership development of young people 

To inspire and engender a heart for working towards national and Caribbean transformation 

To connect like minds and collaborate on shared interests and passions 

To provide opportunities to serve  peers, individuals, communities and the nation by using individual talents, abilities and skills

To equip young people to be value-based, professional skilled leaders in their fields of their passion and interest

To strengthen existing initiatives led by young people 
Activities 
Facebook/Whatsapp Group – this is an ongoing group administrated by OSJ that shares resources (e.g. leadership articles, quotes, informal discussion forums) with members of the network 
Networking Forums – these are quarterly forums that promote group networking and conversations with successful leaders in business, ministry, social development or governance. The aim is to give a cross section of young leaders an opportunity to build friendships and relationships that can lead to collaboration while learning, sharing and benefiting from the knowledge and experience of others about strategies for national transformation. 
Mentorship – these 3 month long relationships with older, successful leaders facilitate the expansion of the themes discussed in the networking forums and fosters personal and leadership growth and development through small group discussions and observation. 
Training – these training sessions will be held 3 times per year and will facilitate peer-to-peer skills sharing. These sessions allow persons in the CEL network to acquire knowledge and skills from their contemporaries that will enhance their personal and organisational growth at a subsidized cost. 
Missions – each CEL will be encouraged to become a volunteer at an OSJ-related or other programme while supporting each other's initiatives. Occasionally, mission trips to other Caribbean islands will be organised to expose, connect and give the youth an opportunity to share their faith in other spaces, also developing a Caribbean-wide vision for transformation.
Requirements
Be a Christian to be part of the network (does not have to be Christian to attend events)

Be committed to fulfilling the vision 

Be willing to share skills with peers and mentor others 

Be prepared to support peers in their initiatives 

Be ready to serve individuals, communities or the nation based on area of interest
Member Benefits 
Access to local and international networks across industries (governance, business, ministry and social development) and islands

Support for initiatives and events 

Discounted access to training and events 

Personal and professional development 

Be part of a cross-denominational, multi-disciplinary network
How to Join  
Initiate contact: Contact the OSJ office and request a CEL form. 

Complete Form: Download the form, complete and resend. A character reference should also be submitted along with the form. 

Acknowledgement Email: will be sent and your application will be processed over a two week period.

Contribution: $1000 (20 years and older);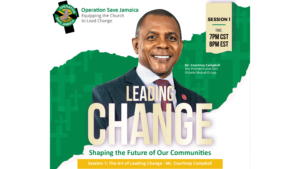 Community Transformation
Registration is FREE! To register visit: bit.ly/3tgxBut
Read More »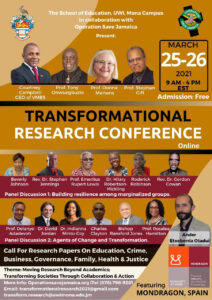 Community Transformation
The School of Education in partnership with Operation Save Jamaica (OSJ) (a non-profit organization) are organizing an online conference to enable researchers to share knowledge
Read More »
The purpose of this event was to encourage and motivate the women in the Young Mothers Association (Strong Women) of Galina and spur them into
Read More »